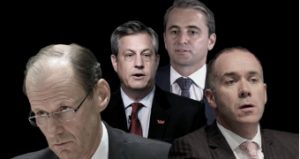 The Royal Commission into Misconduct in the Banking, Superannuation and Financial Services Industry was established on 14 December 2017 with submissions beginning shortly thereafter and public hearings commencing 12 February 2018.
During a period of some 8 months the Commission netted allegations and evidence of misconduct from 10,140 public and industry submissions and from 'mild' cross examination over 59 days of public hearings.
An interim report was then released 28 September 2018 with findings of misconduct throughout the finance industry. While submissions, hearings and the report exposed extraordinary levels of wrongdoing, which many have known for decades, the job of restoration is far from complete.
Many say the Commission's Terms of Reference need widening; extending their powers and time to have any chance of disclosing the depth of the fraud and corruption. It is warned that band-aid fixes will be temporary unless systemic roots are properly uncovered, canvassed and remedied.
Unless the Commission's work is thorough, extensive and effective, minimising further threats of misfeasance that cause detriment to consumers, everyday hard working and vulnerable people will remain at risk from such predatory lending and unfair practices in favour of banks. Subsequently, tighter policies will reduce access to credit and any resemblance of fairness for ordinary Australians.
The final report due 1 February 2019 is among other things, predicted to recommend ways in which bank victims will be properly compensated for any loss and injury sustained. However, only time will reveal the credibility of any such honourable notion.
Sime Juric's submission to the Commission can be found here.
Both Final and Interim reports can be found here.